Tactical Dog Collars. Military Dog Collars.
Get a FREE Custom Dog Tag with Coupon Code: SALUTE
Just Add the Tag, Use the Code!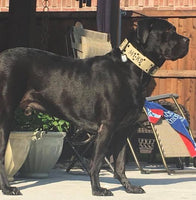 100% Satisfaction Guaranteed!
We Pride Ourselves on Customer Service. Got a Question? Give us a call or shoot us an email...
888-312-2752 / Sales@M1-K9.com
Love Your M1-K9 Collar or We'll Ship it Back for FREE!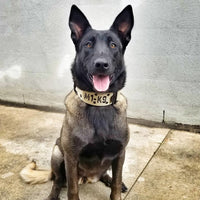 Generation 3 Specifications
Standard or Pro Series, Generation 3 M1-K9 Large Breed Dog Collars are adjustable 16"-26" inches, made with 2.25″ Wide High density nylon web. Stainless Steel D ring, black brass grommets, steel adjustment hardware, and new streamlined detachable utility pouch. The M1-K9 Collar is an Awesome Military dog collar. A true Tactical dog collar you can be proud of. M1-K9 Collars are a Salute to Our U.S. Military.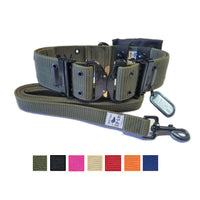 M1-K9 Pro Series
Features the 2.25" AustriAlpin Cobra Buckle made from 7075 Aluminum Alloy, Rated at 4500 lbs.
*Buckle is Guaranteed for Life.  If your collar wears out Years down the road, send in your buckle to put it on a fresh collar.  

If your dogs a little agro or on a tether, this is what you want. Leash and pouch included.
Shop Pro Series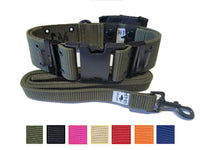 M1-K9 Generation 3
Made for Dogs of Stature that can handle a wide dog collar.  High Quality 2.25" Polymer buckle.  Leash, Pouch and Custom Military Issue Dog Tag Included.
*Not for long line tethering or agitation training.  Our polymer buckles are of the highest quality. But no polymer will ever be rated over 1000 pounds...If your dog requires absolute security, please check out the M1-K9 Pro Series Collars.
Shop Standard G3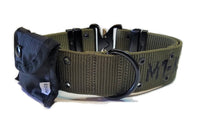 Black Stainless Steel D Ring and Streamlined Utility Pouch
M1-K9's Stainless Steel D Ring is Dependability at it's Highest Level. The Generation 3 Pouch is a little smaller than it's predecessor.  More streamlined, you won't want to take it off.  It's still the perfect spot to store a few waste disposal bags.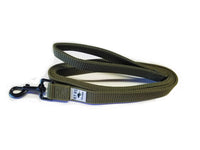 M1-K9 Generation 3, Six foot Heavy Duty Thick Nylon Leash.
Heavy duty 6 foot leash made with the same thick high density nylon webbing to match the Generation 3 M1-K9 Collar.  Quality, Thick, Durable, Awesome.

M1-K9 Collars 100% Guaranteed.
We Pride Ourselves On Customer Service.
Our 100% Satisfaction Guarantee means if you ever run into a problem with your M1-K9 Collar, just give us a call (888-312-2752) or email us (Sales@M1-K9.com) and we will take care of you.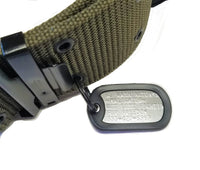 Custom Military Issue Dog Tag
Add a Custom Military Dog Tag to your new M1-K9 Collar.  Stainless steel, matte finish. Black key ring and short HD ball chain (not shown in photo) included.
Shop Dog Tags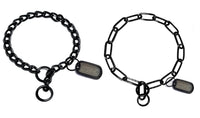 Dog Tag Chokers and Furs
Here at M1-K9, we think every dog should have a choker or a fur saver.  Not so much to choke your dog, but it's great spot to put a dog tag and can be worn 24/7.  That way, when your dog is "off duty" he can take off his M1-K9 Collar while still having his dog tag on.  When it's time to adventure, it pairs great with his M1-K9 Collar.
Shop Chokers and Furs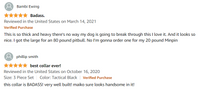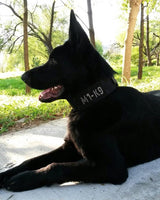 M1-K9 Big Dog Collars
M1-K9 Tactical Dog Collars, Large Breed Dog Collars made for German Shepherds, Pit Bulls, and All Big Dogs.  Military dog collars made in the image and stature of the iconic U.S. Military pistol belt, M1-K9 Collars are made for Comfort and Durability. But really they are just a quality collar that looks super cool on your dog. Bad Ass Dogs Need Bad Ass Collars!

Veteran Owned, Veteran Operated
"M1-K9 Collars are a Salute to Our Great United States Military.  To the Soldiers and the Dogs that help them in their Mission" -M1-K9 Collars
Why We Salute Military Working Dogs!
Large Breed Dog Collar, Military Dog Collar, Tactical Dog Collar
Sales@M1-K9.com / 888-312-2752